Jean from Kyoto, Japan sent us this question via email earlier (email us at techpinas@yahoo.com):

"Dear TechPinas, I'd like to know if there is a software or program out now (aside from Photoshop) that would allow me to combine or morph my facial features with that of my Japanese fiancee's to form a new face. I'm just curious to know how our future babies might look like. Thanks!"

First off, I'd like to say hi to our friends in Japan! Thank you so much for supporting TechPinas! :)

Jean, there's a website out now that does exactly that -- morph and combine people's faces into one.

Check out www.morphthing.com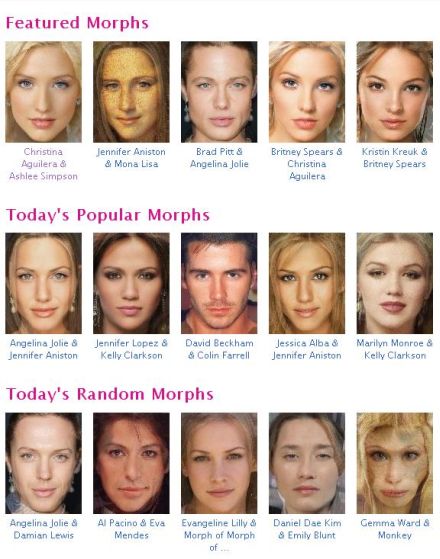 Morph celebrity faces into one! Credit: Morphthing.com
Yep, morph celebrity faces into one or, by logging in and uploading your picture, you may also use it to morph
your own face
with your friends' or fiancee's and even celebrities'. It's a really cool site and the application is fairly simple to use.
Have fun!
For Reviews of Netbooks out in the Philippine Market Today (and some, yet to be) visit TechPinas' Netbook Mania - Netbooks Philippines.

Spotted! The Biggest Pinoy Celebrities and Their Gadgets ( Celebrity Gadgets , Stars and their Gadgets )
Published by Techpinas - The Philippine Technology Blog , A Division of No Bounds Publishing.